Do you need to move or service a pool table? Let SOLO Orlando Pool Table Movers guarantee your service.
Professional and experienced services by SOLO® Orlando Pool Table Movers
Guaranteed by a national organization
SOLO® Pool Table Movers In Orlando, FL.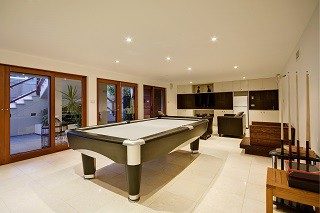 Moving your pool table with SOLO® Orlando Pool Table Movers in Florida includes professional tear down, transportation with expert leveling, and pool table installations with expert leveling, and installation of the existing pool table cloth. We handle everything from start to finish.
We provide pool table services and repairs also in Sanford, Deltona, Titusville, Daytona Beach, Palm Bay, Lakeland, Ocala, Melbourne, Port Orange, Belleview, Palm Coast, New Smyrna Beach, Ormond Beach, Cocoa Beach, Merritt Island, and more around Orlando Florida.
SOLO® Orlando Pool Table Movers can refelt your pool table as well as new material if you desire for an additional cost. Guaranteed satisfaction and leveling on applicable pool tables. We can move pool tables from house or house, and we service local businesses also.
Professional pool table installers backed by the ABIA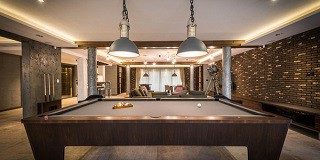 The American Billiard Installers Association is the only national organization regulating the industry's service standards, and we are the only company in the area authorized to issue a document backed by said organization.
Rest assured, your pool table refelting, installation, move, or repair service will be taken care of by professional pool table installers that have your satisfaction as their primary goal.
Complete pool table moves must be handled following a methodical process for the pool table assembly and the disassembly.
Be careful of people who are cheap and claim a lot of experience. This in itself is a red flag. If you are a conscious consumer, you should consider using a company backed by the only organization representing the billiard installation and service industry.
We can salvage the existing cloth in most cases if it is in good condition. however, most customers choose to have the pool table recovering job with new felt at the installation time.
Experienced pool table movers recommend refelting at the time of installation.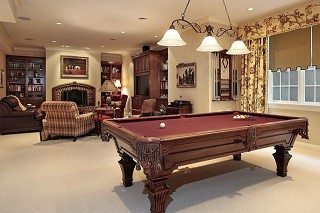 We offer different options of billiard felt in several colors to match your decorative needs. Standard felt and tournament worsted material for the more serious player. If you want your billiard investment to play to its maximum potential, go with the pro tournament felt!
If you're unsure which size of pool table best fits in your room, we have a section that has a chart of the pool table room sizes for your convenience. Many people don't consider this crucial question when purchasing a pool table for their home, will it fit in the room? This is extremely important since it affects the pool table size you can get so that you enjoy a good playing experience.
We will come into your house and remove the existing felt from your table, replacing it with the residential grade. We will also double-check your pool table to see if it is level. If it isn't, we will correct it. Other brands of felt are available such as Simonis.
We move pool tables in homes, businesses, and even garages! We handle every aspect of your pool table move
Pool Table Repairs
Have a little problem with your pool table? We have you covered, from complete pool table repair and pocket replacement to dead rubber on the rails.
New Cloth / Pool Table Refelting
We offer new cloth for a move and also a pool table recovering service without moving.
Pool Table Moves to Storage
We will break down your table or move it from storage facilities, your garage, or another room in the house. If you need carpet installed, do not try to move your pool table! Are you taking the table out of storage? We can professionally install the pool table for you.
Orlando Pool Table Movers is backed by the only national organization in our industry.
Members of the ABIA, the only company in Orlando, Florida, to offer you an exclusive 1-year service guarantee IN WRITING and issued by the American Billiard Installers Association.

So what are your choices for pool table installers?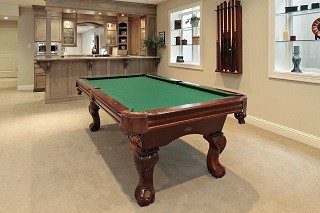 For the client who bought a cheap billiard table on Craigslist, though they could have a couple of their friends move it to their garage, we probably aren't the right choice. They are better off calling one of the cheap installers that operate out of their home. If the entire job is about saving money and getting the cheapest guy to do the work, that's what you can expect from your pool table installation service.
You can't expect good service with client follow-up, customer support, and a real service guarantee on their work when they aren't charging enough to even do the job correctly in the first place. Everyone says they guarantee their work, but in our many decades of experience working with pool table installers, we have found that this guarantee that they offer will generally expire after they get your commitment on the job, in other words, as soon as you hang up the phone after giving them your schedule and address. We see this happen too many times every day in the industry.
We also offer shuffleboard table services. Contact us to get your quote and schedule your service. Our shuffleboard movers can usually get you taken care of within a week!